For Monte Rodovias, caring for the environment and the society in which we operate is of paramount importance and is a value rooted in the Company's operations. Therefore, the Company is always aligned with the best ESG practices and aims to generate impacts both through social impact actions and environmental responsibility programs.
Each of the Company's assets has different ESG initiatives. For CBN, Monte Rodovias has 3 main fronts, namely:
Support for Sustainability. On this front of CBN's operations, the Company monitors noise and pedestrian collisions with the fauna to identify possible locations where mitigating actions can be implemented. In addition, we rescue animals that are on the metropolitan highway and release them back into their habitat, to ensure the preservation of species and environmental balance. Finally, we planted 40,112 seeds in Camaçari and separated more than 1,510 tons of waste for recycling.
Local Community Support. On this front, we were able to benefit 560 families from 9 communities by donating more than 3 tons of food, 2,500 personal hygiene kits, in addition to serving more than 600 truck drivers and investing more than R$400,000.00 in actions to combat COVID- 19.
Educational Support. Monte Rodovias, through CBN, trained more than 300 young people in computing, in addition to developing programs for traffic education and combating child exploitation.
For CRA, we have three main initiatives related to the ESG theme. Are they:
Massangana Arena Project. We built a soccer arena as a way to bring community members together and promote social change, introducing sport into the lives of local communities in an initiative that had more than 1,500 people directly impacted.
Our School Project. We implemented a sewage structure in a school in the city of Jaboatão and renovated a school in Cabo Santo Agostinho. This project aims to impact children by improving their study conditions so that they can attend classes with an infrastructure compatible with their needs. The project directly impacted more than 1,200 children.
Implementation of the Ethics Committee at CRA. We have established 17 normative instructions and semiannual monitoring of corporate integrity and risks, in addition to a confidential reporting channel for our employees as a way to ensure the well-being of our workers, as well as the alignment of CRA with the values ​​of Monte Rodovias.
We have seen significant improvements in our highways' ESG indicators, including road safety and workplace safety. For road safety, CBN achieved a 21% drop in accidents per km between 2016 and 2020. The improvement in accidents is also visible when we look at the total number of accidents, which fell 15%. We highlight a 10% drop in accidents per km and the total number of accidents in 2020, which was the year we acquired the concessionaire's operation. We see even stronger improvements for CRA. For both road safety metrics, we saw a 26% drop between 2016 and 2020 and a 16% drop from 2019 to 2020. The main evolution occurred at CRC, where accidents per km and total number of accidents were 5 .21 to 0.48 and 100 to 12, respectively, between 2014 and 2020.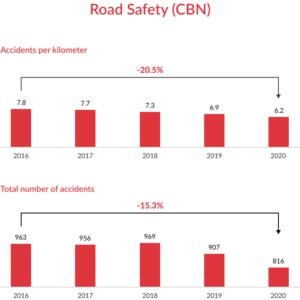 Source: Company
For occupational safety, which we use accident rates, training and compliance with management systems, the results were also positive, as can be seen in the graphs below: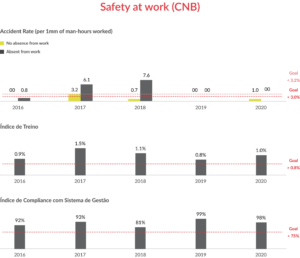 Source: Company
The actions taken at CRA to improve the conditions of our highway were recognized in 2016, 2017 and 2018. CRA was considered by the National Transport Confederation one of the best highways in the country. In addition, between 2015-2018, we were recognized as a Great Place to Work Company.
Sources: National Transport Confederation (CNT), Great place to work (GPTW)
The CRC also has several initiatives aligned with the ASG agenda, among which it is worth mentioning:
CRC Sustentável, which aims to implement, maintain and improve the concession's environmental management and has already invested more than R$25 thousand.
Traffic education to reduce accidents, with more than 20,000 people impacted and more than R$18,000 invested.
Viva Bem CRC, in which we promoted cultural and health events, as well as lectures on first aid and occupational medicine with more than 2,000 people impacted.
Voluntary partnership in which CRC members can volunteer to help partner institutions with more than 2,000 people impacted and 11 projects completed.
Via Escola, which is an initiative to contribute to the development of basic education and which has more than 3,000 people impacted, in addition to providing ongoing training for more than 300 educators.
Citizenship Reserve, whose objective is to contribute to sustainable local development in the Paiva reserves and adjacent beaches, with 5 benefited locations.
Like CRA, CRC has already been recognized and awarded for its quality. Among all toll concessions in Pernambuco, we received the second highest score for road conservation in the state, according to a survey by the National Transport Confederation ("CNT"). This care we take with our roads can also be seen through customer experience surveys. In terms of quality, we achieved a score of 8.3 out of 10 and a pass rate of 98%, according to a 2020 CRC survey. highway operation.

//php if ( is_page_template( 'page-templates/home-page-inst.php' ) ) { ?> //php get_template_part('partials/footer', 'inst'); ?> //php } else { ?> //php get_template_part('partials/footer', 'ri'); ?> //php } ?>